Earlier this week, Vivo announced the Vivo S1 Pro in the Philippines. The phone is due to be launched in other Asian markets such as Indonesia and India in the coming days. However, the phone has made it to Russia today, albeit under a different name. The Vivo S1 Pro was launched in Russia as Vivo V17 with a starting price of 22,990 Russian rubles, which is approximately $ 360.
The naming of Vivo V17 is not really surprising for the Russian market. If you remember, the Vivo S1 was renamed as Vivo V17 Neo in Russia when it was launched in August 2019. Therefore, it makes sense that the S1 Pro was introduced this week as vanilla V17 in the same market.
The Vivo V17 has exactly the same features as the S1 Pro. So you get a Snapdragon 665 processor with up to 8 GB of RAM and 128 GB of memory. The phone has an AMOLED display with a resolution of 1080 x 2340 pixels (6.38 inches). This corresponds exactly to the display of the V17 Neo. Other features include NFC, a large 4500 mAh battery and a built-in fingerprint sensor.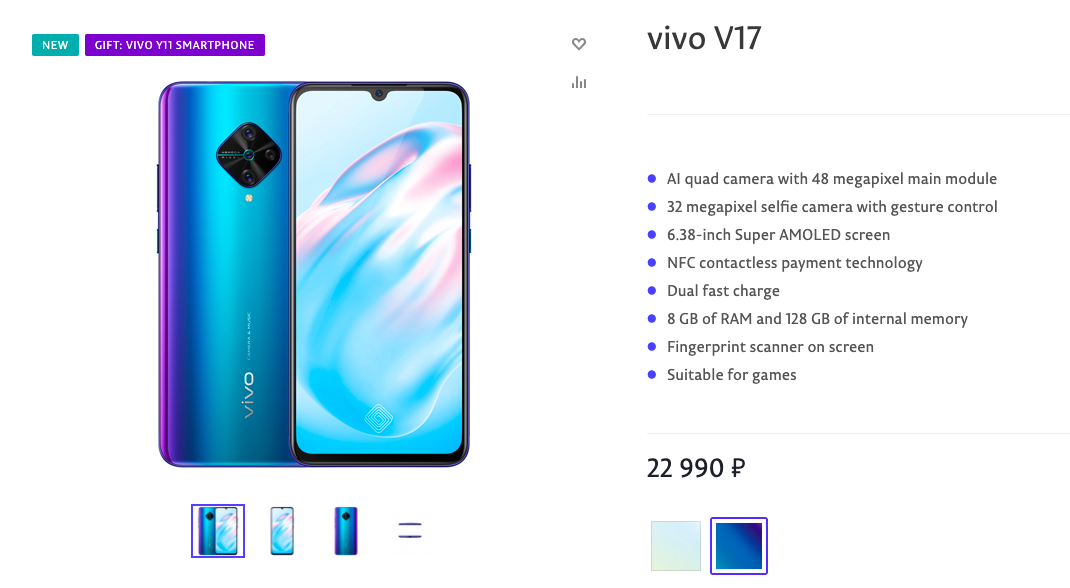 NEXT UP: Vivo U20 hits India's Redmi Note 8 with Snapdragon 675 & 5000mAh battery pack
(Source, Via)