Back in April, Qualcomm announced Quick Charge 3+ for affordable devices. It came as a surprise since there was already Quick Charge 4 and Quick Charge 4+. Today, it has announced Quick Charge 5 which brings key upgrades, the key one being support for 100W+ fast charging.
Lately, we have heard manufacturers such as OPPO and Realme announce fast charge technology over 100W+. The aforementioned fast charging technologies are proprietary, but for several other manufacturers, Qualcomm's Quick Charge is what they use which explains why the semiconductor company is also jumping on the high-power fast charging train.
Qualcomm says the new fast-charging technology is the world's fastest commercial charging solution.
Quick Charge 5 enables charging speeds of up to 0-50 in five minutes (for a 4500mAh battery), with 100W+ charging power with our new Dual Charge Technology
Quick Charge 5 uses Dual Charge technology, similar to what a number of other manufacturers use for their high-power fast charging technology. The battery is split into two and Qualcomm says a single battery can be charged at up to 45W to 50W.
Qualcomm says the new battery technology is 70% more efficient than Quick Charge 4+ and offers 10 times more power than Quick Charge 1.0. It is also up to 10°C cooler than Quick Charge 4 and Quick Charge 4+.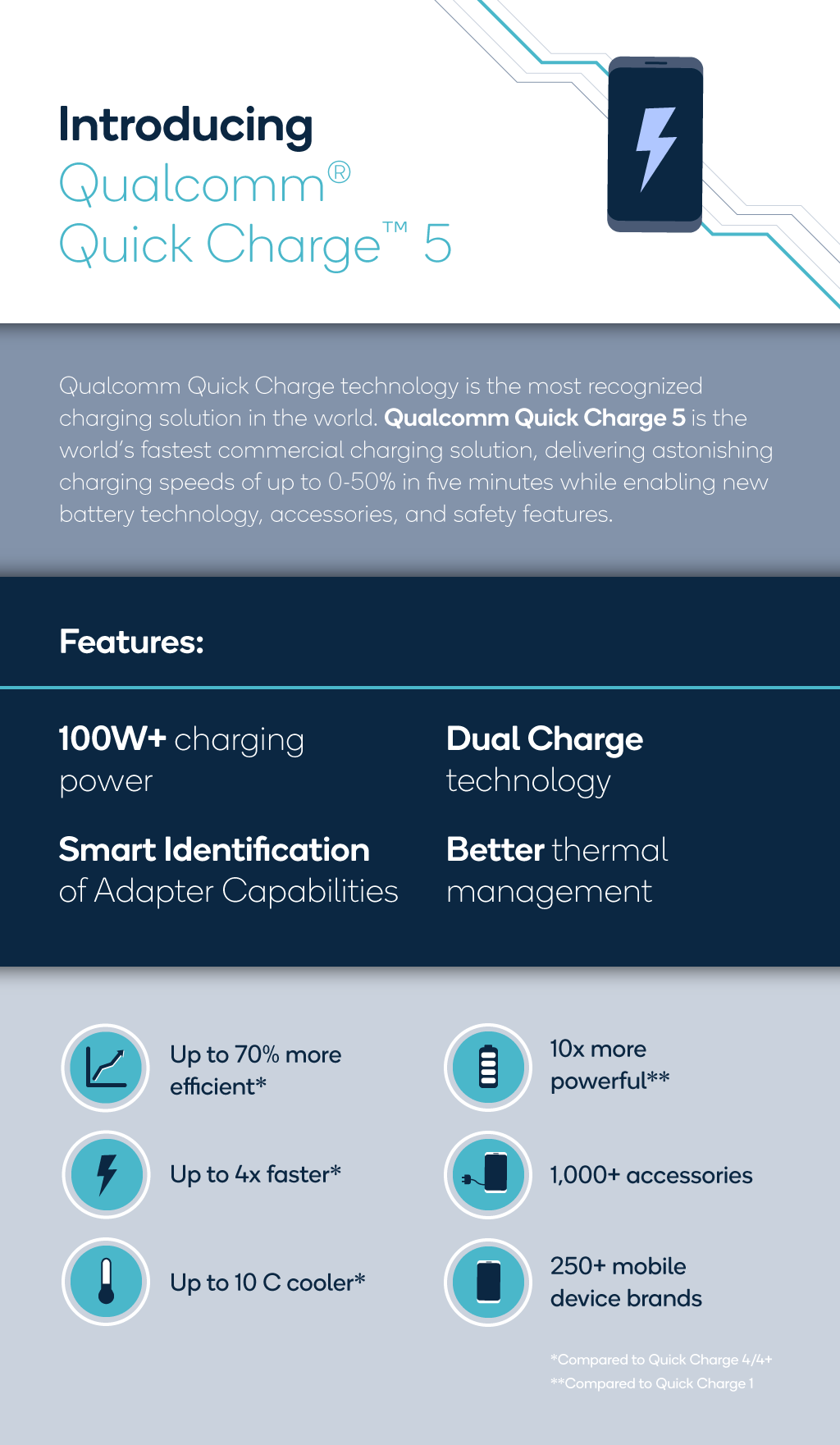 Worried about battery life? Qualcomm says battery saver algorithms will extend battery life cycles. Quick Charge 5 will not only use Qualcomm Battery Saver but also use the new Qualcomm Smart Identification of Adapter Capabilities to extend battery life.
EDITOR'S PICK: World's First 120W fast charging unveiled by iQOO; the First phone with this tech could be announced in August
XDA-Developers explains Smart Identification of Adapter Technologies as the ability of Quick Charge 5 to identify the real capabilities of a power source and adjust charging based on that rather than going with the advertised power source which may be incorrect. Some of the details it can identify include voltage behavior, current behavior, and voltage ranges. There are also several protections; up to 12 voltage, current, and temperature protections built into Quick Charge 5.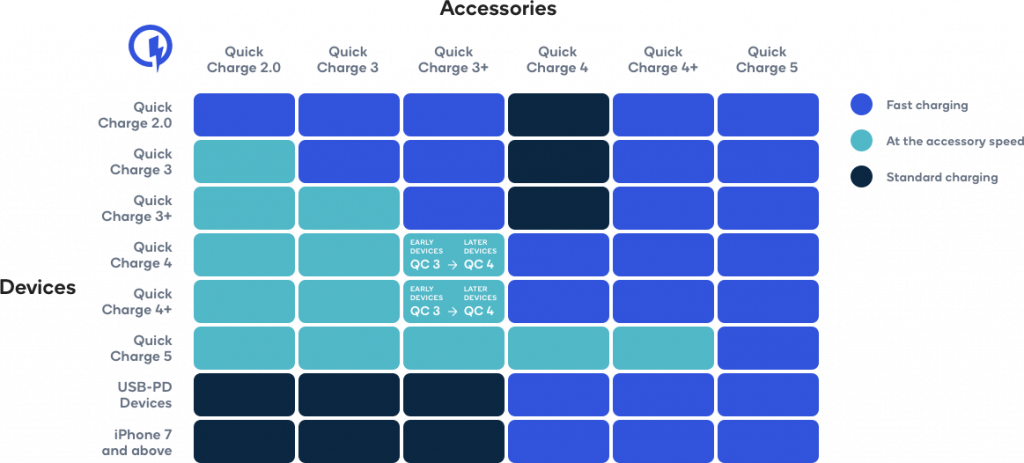 Quick Charge 5 is also backward compatible with previous versions up to Quick Charge 2.0. Charging accessories will have a voltage range of 3.3V to 20V and 3A, 5A, and greater than 5A for current. There is also support for USB Power Delivery.
Quick Charge 5 is currently supported by the Snapdragon 865 and Snapdragon 865 Plus Mobile Platforms as well as future premium and top-tier mobile platforms. It is currently in sampling with manufacturers and expected to appear in devices as early as this quarter.
Mid-range processors such as the Snapdragon 765 series, Snapdragon 720G, and Snapdragon 690 are not supported. However, Qualcomm promises that the technology will eventually be available for the mid-range category but just not the current offerings.
Xiaomi has announced that its future devices will support Quick Charge 5.
ALWAYS BE THE FIRST TO KNOW – FOLLOW US!