Color filters are apparently replacing polarizers in foldable variants of OLED panels (organic light emitting diode) in the near future. This change would bring various improvements for the display technology along with multiple benefits.
According to a new report from UBI Research, known firms that manufacture such foldable OLED displays are working on bringing color filters that will allow panels to become thinner and brighter. For those unaware, Polarizers can be found in OLED panels and are used to deflect reflections from external lights.
The versions of OLED that is currently available in the market generally stack and encapsulation layer, polarizer, optically clear adhesive, a cover window on top of the light emitting layer. Furthermore, the cover window is made from a polyimide film or ultra thin glass (depending on the manufacturer).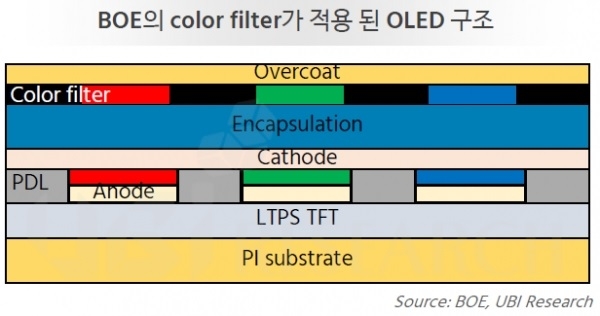 While vendors were already using polarizers with a thickness within the 10 micrometer range over the 100 micrometer ones used in previous generations, this is still considered thick and lowers the overall brightness of the OLED panel. Notably, Chinese display maker BOE had showcased a foldable OLED panel back in 2017, which utilized a lower temperature color filter instead of a polarizer. The company said that the was "100 times thinner and 23% more bright than OLED panels that used polarizers."
UP NEXT: Grab Blackview BV6300 Pro camera-centric rugged smartphone at a limited-time discount sale of upto 26%
(Via)
ALWAYS BE THE FIRST TO KNOW – FOLLOW US!