The LG V60 ThinQ launched back in February but the device just got reviewed by DxOMark. The review of the triple-rear camera-toting phone shows that LG's flagship can't hold its own against not only this year's flagships but also those from last year.
DxOMark has given the LG V60 ThinQ 5G an overall score of 100 points which is broken down into 103 for photos and 93 for videos. With this score, the LG flagship is in the same bracket with phones such as the Galaxy S9+ and Pixel 3a. When compared to the LG G8 ThinQ, it only performs better in video recording.
The review says the phone's lack of a telephoto lens means it can't measure up to its competitors in terms of zoom. It also says its texture and noise levels are also below those of other flagships.
It is not all bad for the LG V60 ThinQ. Its ultra-wide angle camera has a wider field of view than many other phones and it is great for taking pictures in high-contrast conditions as a result of its good dynamic range.
EDITOR'S PICK: Xiaomi Mi 10 Pro selfie cam isn't flagship-level: DXOMark Selfie camera review
The ultrawide angle camera may have a wider field of view but distortion is not as corrected as that of the OnePlus 8 Pro whose field of view is similar to that of the V60 ThinQ.
If you want to shoot in low-light with the flash, the LG V60 ThinQ 5G will disappoint as it overexposes the subject while the background is underexposed. Better phones are able to achieve good subject exposure while still capturing sufficient background details.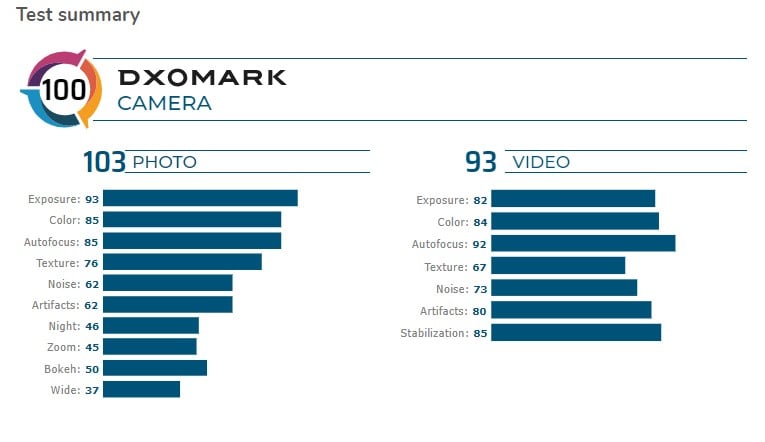 When it comes to videos, the LG V60 ThinQ is great in bright outdoor conditions and under typical indoor lighting. Unfortunately, exposure drops in low-light. DXOMark praises its autofocus while recording and attributes it to fast focus convergence and good tracking with smooth transitions.
DXOMark concludes the review by saying the LG V60 ThinQ 5G will actually suffice for a lot of people as long as camera performance isn't top on their list. Its dual-screen accessory and large battery capacity among other features make it a pretty interesting device that will make owners happy.
ALWAYS BE THE FIRST TO KNOW – FOLLOW US!