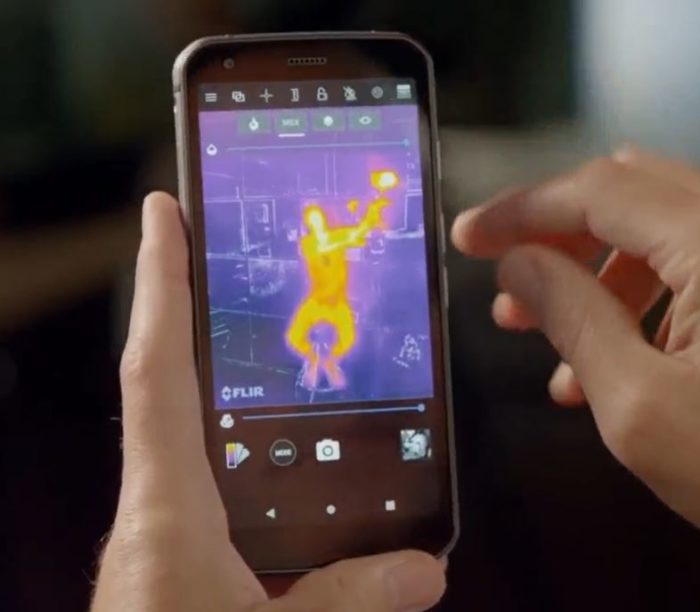 If you want rugged, and you want properly useful extra gadgets, the Cat S62 Pro is the phone to go for. It meets the highest military spec (Mil-Spec 810H) so you can whack the lovely screen with a hammer or drop it repeatedly from 1.8 metres. It's also IP68 so is waterproof, dustproof, vibration, sand, salt mist and pressure resistant.
Selling for £599, there's no 5G and they've also taken out the air-quality sensor and laser-assist measurement (as found on the S61), but it does get a new thermal camera which is said to be the best available in a smartphone. It's highly sensitive to minute temperature differences thanks to the FLIR Lepton 3.5 sensor and a 4x increase in the number of thermal pixels. You can also overlay the "normal" photograph on top of your thermal image, sliding between the two. The MSX linear overlay can now be adjusted, and there's a -20℃ to 400℃ measurable range.
In addition, the screen is now upgraded to a 5.7″ FHD+ (18:9 – 1080 x 2160) TFT LCD with wet finger / glove-on technology. There's 6GB RAM, 128GB of storage and an added a fingerprint sensor. You can also whack a microSD card in.
Powered by a Qualcomm Snapdragon 660 (2GHz octa-core) processor, it runs Android 10 and comes with a 4000mAh optimised battery to deliver up to two days general use.
The thermal camera lets you "see the invisible" and previous models have proved a hit with plumbers, electricians, healthcare professionals and DIY enthusiasts. When you're not using that, there's a Sony IMX 363 12 megapixel dual pixel lens on the back and an 8 megapixel selfie lens up front.
In addition to all that, you get all the Google goodness including Google Play. There's also Bluetooth 5, dual-band WiFi, NFC for your contactless payments, USB-C (waterproof) charging with quick charge 4, GPS and that screen is protected with Corning Gorilla Glass 6.
Introducing the Cat®S62 Pro – the pinnacle of innovation, functional design and rugged durability
Featuring the most advanced integrated thermal camera available in a smartphone
28th July 2020, READING, UK – Bullitt Group, the global licensee for Cat® phones, is unveiling its new flagship thermal imaging smartphone, incorporating the highest resolution integrated Lepton® from FLIR systems available.
The Cat S62 Pro is the third generation of the Cat 60 series and exclusively showcases the latest in Thermal by FLIR® technology. Powered by the FLIR Lepton 3.5 and the new MyFLIR™ Pro app, the Cat S62 Pro offers a huge four-fold increase in the number of thermal pixels and an unmatched feature set within the application.
Tested to Cat phones' demanding, market-leading rugged standards, the Cat S62 Pro is incredibly tough. It achieves and surpasses an ingress protection rating of IP68, and US military standard, Mil Spec 810H. It has undergone rigorous testing including repeated drop tests from 1.8m onto steel, with multiple drops onto every side and corner, as well as extensive waterproof, dirt and dust proof, temperature extreme survivability, and vibration and tumble tests. It's hygienic too – it can be fully submerged and easily washed with soaps and disinfectants, or cleaned with alcohol wipes.
For the first time, professionals and consumers can access FLIR Systems' VividIR™ image processing, enhanced MSX® (Multi-Spectral Dynamic Imaging), and visible-to-thermal blending technologies integrated into their smartphone. Users can now vary the intensity of MSX, which overlays visual outline detail from the scene onto the thermal image or use the new alpha blending feature to combine thermal detail with the visual image from the Sony dual-pixel camera. Together these upgrades deliver dramatically enhanced image quality, sharper images, and higher thermal resolution to provide greater context and understanding of the thermal image you are seeing.
"For five years we have led the thermal mobile market, and with the introduction of the Cat S62 Pro we are raising the bar to continue leading the industry. Not only are we bringing game-changing professional thermal image quality to our customers, but we've also made numerous other improvements. Compared with its predecessor, it's 12% more compact with a 10% bigger screen. It's faster, more powerful and incredibly tough. It's the ultimate work phone." said Peter Cunningham, VP Product Portfolio at Bullitt Group.
The new software enables analytic and reporting features typically found in higher end, dedicated thermal imaging products. Isotherm and isotherm alarming, minimum and maximum temperature flag indicators, and report generation built into the app, are just a subset of the powerful new features found in the MyFLIR Pro application on the Cat S62 Pro.
"By providing FLIR Systems' latest Lepton thermal sensor for the Cat S62 Pro, we are continuing a tradition of innovation that now spans three generations of Cat phones to help professionals perform work more quickly and accurately," said Paul Clayton, General Manager, Components Business at FLIR. "Integrating the MyFLIR Pro app also provides users advanced thermography features for the first time on a smartphone, maximizing the utility of seeing and detecting heat energy invisible to the naked eye."
With isotherm alarming you can monitor a custom temperature range (anything between -20°C to +400°C) and add alarms to alert you when something falls within that range – hugely useful when watching for machinery to reach a specified temperature, screening for unusually elevated temperature, or even if the BBQ is up to temperature.
There are also upgrades to the Cat S62 Pro's display, now 5.7″ FHD+ (18×9), and to the memory, now 6GB RAM and 128GB ROM. With a faster Qualcomm chipset, Android™ 10, and a large, optimised battery, the Cat S62 Pro is also fully enterprise ready. It supports Android Enterprise features, including Zero-touch, and has undergone a series of enrolment and policy provisioning tests with leading EMM solutions.
The S62 Pro represents a step change in mobile thermal imaging, and the pinnacle of innovation, functional design and rugged durability. Use it to discover more about the world around you, to help locate and diagnose the damp, the draught, the leak, the hotspot, the electrical short, the blockage or the elevated temperature; monitor, diagnose, reveal and save time.
Key Specifications
· Integrated FLIR thermal camera
o Lepton 3.5 professional grade camera
o 1440 x 1080 HD output with VividIR
o MSX linear overlay from the visual camera
o Measurable range -20°C to 400°C
o Picks up heat and measures surface temperatures from a distance of up to 30m
o Scalable and movable regions of interest with 'hottest' and 'coldest' indicators
o Horizontal field of vision is expanded to 57 degrees to capture more of the scene
o 9 thermal colour palettes to choose from depending on the situation
o PDF reporting
· Powerful 4,000mAh battery
· Water / Dust proof (IP68), Drop tested to 1.8M onto steel, MIL SPEC 810H, Corning® Gorilla® Glass 6
· Waterproof Smartphone – up to 1.5 meters for 35 minutes
· Super Bright 5.7″ FHD+ 18×9 display optimised for outdoor use with a touchscreen that can be used with wet fingers or when wearing gloves
· Android™ 10 (with upgrade to 11)
· 6GB RAM, 128GB ROM, Expandable Storage (microSD™)
· Qualcomm Snapdragon 660, 2.0GHz octa-core processor
· 12MP Sony dual pixel rear camera, 8MP front camera
· LTE Cat 13, VoLTE, VoWiFi, ViLTE
· Hardwearing, non-slip rubberised TPU back
· Programmable Shortcut Key useful for Push to Talk (PTT), SOS (Lone worker app), or to easily launch its torch or camera
· Bluetooth 5.0, NFC
· Curated apps and content catalogue
· Dual and single SIM variants – Nano SIM + microSD™ (separate microSD and SIM slots)
· 2-year warranty
· Android Enterprise Recommended (coming soon)
· Security updates cover for 3 years*
· Zero-touch support
*Comprising two years of security maintenance releases every 90 days, plus one year of emergency security maintenance releases.
The Cat S62 Pro smartphone has an MSRP of €649 / £599 / $749 and will be available to buy via www.catphones.com and multiple retailers and operators.